Quincy Harker, Demon Hunter is an urban fantasy book series published by Falstaff Books. Here's a little bit about the collected editions, plus some info on anthologies, short stories, and audiobooks. All the links to order print books go to my local bookstore, Park Road Books in Charlotte, NC. They frequently have my books in stock, and sometimes they're autographed. You can order my books at any bookstore, though, so feel free to get them wherever you like.
Year One includes the first four novellas in the Quincy Harker series.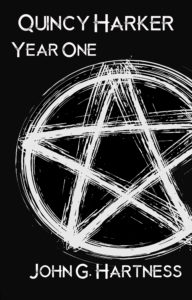 Raising Hell – Straight out of the pages of the legendary vampire novel Dracula comes a demon hunter for the modern world. Mina Murray and Jonathan Harker had a son. They named him Quincy. His guardian angel calls him Q. Dracula calls him nephew.
Demons call him The Reaper.
"There are things in this world that men and women aren't meant to understand. We aren't supposed to know these things exist, much less how to fight them. The things that go bump in the night, the monsters in the closet, the shadow out of the corner of your eye — that's where I live."
Straight to Hell – Quincy Harker is back, and the stakes are higher than ever. The fate of the world rests on the shoulders of a swearing, drinking, misanthropic half-vampire with a bad attitude and an itchy trigger finger. Harker and his team of misfits have just a few days to prevent the actual end of the world, as a group of fanatics have kidnapped a young man thought to possess the power to open the Seven Seals.
Hell on Heels – You think your family has baggage? Quincy Harker has to not only deal with his uncle's psychotic vampire ex-minion Augustus Renfield, but there's a new Vampire Hunter in town, and her name is Van Helsing! It's not a good day for a foul-mouthed magic-using demon hunter, and it gets worse when the original Renfield kidnaps the current Renfield to lure Harker and his Uncle Luke (you can call him Dracula if you prefer) into an ambush.
Hell Freezes Over – He's no stranger to blood. His uncle is Count Dracula, the most famous vampire in history, after all. But what he finds in a quiet North Carolina family home rocks even the jaded Quincy Harker. Families are being slaughtered, butchered like animals, and it seems like the loving fathers are to blame. But a ghostly visitor shows Harker that there is more to the story than he can see, even with his mystical Sight. So he goes chasing justice, and his quest takes him deeper and darker places than even his guardian angel can follow, and pits him against foes stronger than any he has ever faced before.
Buy on Amazon – All other ebook stores – Print – Audible
The Cambion Cycle comprises Year Two of the Quincy Harker Series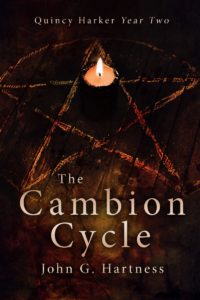 Heaven Sent – It's the summer of 2009, and Harker has a brand-new guardian angel. Her name is Glory, and she's here to try to keep Harker from getting himself killed. Try is the operative word. Because not even a divine guardian with a Joss Whedon fetish can get Harker through this mystery unscathed.
Someone is murdering Nephilim, the rare offspring of human and angel, and using their blood for a terrible ritual. Harker, with some help from his Uncle Luke (you probably just call him Count Dracula), has to find out who the next victim is, who the murderer is, and what the plan is. All in three days. Because no matter what kind of help Heaven Sent, it might not be enough to prevent someone from raising a lot of Hell. Heaven Sent is a prequel novella, with far-reaching effects that will change Harker forever.
Heaven's Door – Seven years ago, Quincy Harker vanquished the demon Orobas and saved the city of Charlotte, NC from his evil plans. Or so he thought. Now the half-divine Nephilim are turning up dead in the Queen City, and it looks like Orobas is back to finish the job.
Can Harker stop Orobas, or will the bloodthirsty demon unleash Hell on Earth?
Heaven Help Us – On the run and reeling from his bloody battle with the demon Orobas, all Harker wants to do is lie low in Lockton, Ohio for a few months and let his physical and spiritual wounds heal. But there are werewolves in the diner, and magically-talented teenagers disappearing all over town. Now Harker's hip-deep in demons again, but this time he's got no backup.
Meanwhile. Detective Rebecca Gayle Flynn and the rest of Harker's team are back home in Charlotte, NC, trying to prove his innocence and figure out Orobas' next move. But no one knows how corrupt Homeland Security or the police department are, or how high the scandal runs. And now some guy shows up claiming to be the great-great-grandson of Doctor Watson (yeah, that Dr. Watson) offering to help?
Heaven Can Wait – It's raining demons in Atlanta, and Quincy Harker and the Shadow Council are humanity's last great hope for survival.
The demon Orobas has a plan to destroy the world, and only Harker and his team of legacy folk heroes can stop him. Standing against the rising tide of darkness are Harker, the immortal magic-wielding son of Jonathan Harker and Mina Murray, Detective Rebecca Gail Flynn of the Charlotte Police Department, and Harker's uncle Luke, who most people know better as Vlad Dracula. Alongside them fight the descendants of legends – the mysterious Adam, Dr. Watson's great-grandson Jack, Jo Henry, descended from the famous steel driver John Henry, and Gabby Van Helsing, whose ancestor was Luke's greatest rival.
This band of humans and monsters have to save the world from Orobas, and whatever terrible force is lurking behind him.
Ebooks exclusively on Amazon – Print – Audible
Damnation: Quest for Glory Book I is Quincy Harker Year Three
Glory gave up her wings to save the world, now Harker and the Shadow Council are working to get them back. To do that, they have to locate eight AWOL Archangels and convince them to go back to work. But not all these angels want to get back to the business of Heaven, and not all of them even remember who they are.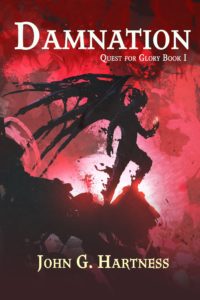 Calling all Angels – They are humanity's defense against the supernatural. They are the light in the darkness. They are the guardians that walk in the night. They are The Shadow Council.
Joanna Harrison is a freelance editor, working mother, and loving daughter. She is also the great-granddaughter of legendary steel driving man John Henry, and she has taken up his hammer to fight against the monsters that threaten her family and her world. She is Jo Henry, and she packs one hell of a punch.
Devil Inside – The Quest for Glory continues as Quincy Harker travels to Charleston looking for a missing Archangel and becomes embroiled in local magical turf wars and potentially murderous politics. Things really heat up when an evil wizard tries to burn the city to the ground, with Harker at ground zero in the conflagration!
Angel Dance – He is Adam, the greatest creation and greatest failure of Victor Frankenstein. Trapped in a life he never sought, in a world that will never understand him, he roams the earth searching for understanding, searching for his own humanity.
And now he roams the streets of New Orleans searching for a missing Archangel and a trumpet that can herald the coming of the Apocalypse.
Running with the Devil – Everyone's favorite demon hunter is looking for a kidnapped Archangel, and he's got to do something completely out of character to do it – go to church. It seems there's a band of extreme religious zealots running around North Carolina, and their current target is a local event promoter who just happens the be the Archangel Uriel in disguise. When Harker follows the evidence to the extremists, he uncovers a lot more than a stuffed offering plate.
Corrupt cops, drunken demons, unholy ministers, and a LOT of leather and spandex make Running with the Devil one of the darkest Harker novellas yet!
Ebooks exclusively on Amazon – Print (coming soon) – (Audiobook coming soon)
Short Stories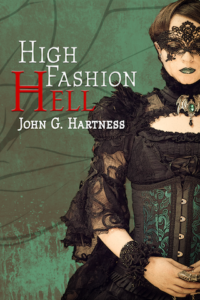 High Fashion Hell – There's something strange going on at the Renaissance Fair, and Quincy Harker in tights is the least of them!
High Fashion Hell was originally published in the anthology Cinched: Imagination Unbound. It is only available in print or on audio as part of that collection.
Amazon – All Other Ebook Stores – Print – Audio (Cinched)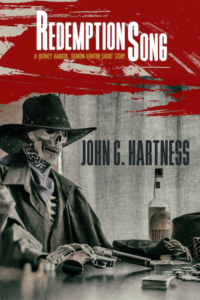 Redemption Song – a twist on a Western Classic finds Quincy Harker in a saloon where nothing is as it seems.
Redemption Song was originally published in the anthology Tales of the Weird Wild West. It is available in print as part of that collection, and as part of Damnation: Quest for Glory Book I. Redemption Song is not currently available as an audiobook.