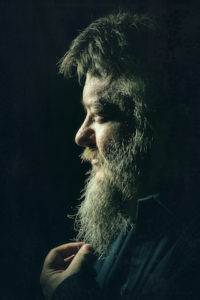 John G. Hartness is a teller of tales, a righter of wrong, defender of ladies' virtues, and some people call him Maurice, for he speaks of the pompatus of love. He is also the award-winning author of the urban fantasy series The Black Knight Chronicles (Bell Bridge Books), the Bubba the Monster Hunter comedic horror series, the Quincy Harker, Demon Hunter dark fantasy series, and many other projects. You can find more information about John and his other projects on his home page. Be warned, it also contains a blog with random publishing industry rants, jabs at politicians, and lots of pictures of cats.
In 2016, John teamed up with a pair of other publishing industry ne'er-do-wells and founded Falstaff Books, a small press dedicated to publishing the best of genre fictions "misfit toys." Since founding Falstaff, John and the Misfits (sounds like a band, doesn't it? Maybe in 2018…) have expanded the Quincy Harker Universe with multiple novellas from other historical and folk heroes, branched out the Bubba the Monster Hunter Universe into regions other than the South, and published popular novels, collections, and anthologies by authors like Darin Kennedy, Jaym Gates, Edmund Schubert, Bobby Nash, and A.G. Carpenter.
In his copious free time John enjoys long walks on the beach, rescuing kittens from trees and playing Magic: the Gathering. John lives in Charlotte, NC with his wife Suzy and one overweight cat that usually tolerates his presence. Every other week, you can hear John be ridiculous in the role of Fandingo the Fanstastical, lecherous bard and wannabe rock star on the comedy podcast Authors & Dragons, where he plays Pathfinder online (very poorly) with a half-dozen or so of his comedy fantasy author friends.